AFFORDABLE

PRICES

FRIENDLY

& TIDY

WORK

GUARANTEED

LATEST

TECHNOLOGY

NEW FLOORS FOR EAST SHEEN
Your property deserves a restored wooden floor if:



                       the natural wood surface is coated in paint and old sealant...

it's tired, grey and shabby



                          or marked, scratched and damaged.

So tolerate no more delays. Wherever your floors are located - in the home, shop, office, school, bar, or restaurant - call on the specialists in floor repair and resealing.



               ​    Floor Sanding East Sheen are your choice for restoration in SW14.

From hardwood boards to parquet blocks, our fully-qualified floor restoration teams offer the full service: ​

- repairs and replacement of damaged timber
- sanding back to smooth bare wood
- staining for a fresh colour. Try a new look - such as the fresh modern grey or Scandinavian white.
- the final protection provided by oil, lacquer or hard wax.
And all completed with top quality materials for a floor to last longer and look better.
Dust is a thing of the past, with the efficient collection from our machines. And any disruption will be minimal with flexible working
to suit your schedule - at weekends or even overnight.
So call us today for your free assessment. You'll get the best advice - and a job to match your needs from a company who have prepared hundreds of new floors to the highest standards.
Floor Sanding East Sheen - for floor repair and restoration.
EAST SHEEN AND BEYOND
Although a number of big Victorian houses were built in the area, they have been replaced by 20th century villas. Not much pre-Victorian survives: the Plough Inn is 18th century, while Percy Lodge is an attractive mansion with wrought iron gates.
​Nearby Mortlake retains a good selection of pleasant 18th century houses. The parish church is mainly Victorian but has a tower of 1543, built by order of King Henry VIII.
The unusual brick vestry house of around 1670 is worthy of note.
Perhaps the most startling local edifice is the stone monument in the RC cemetery to the Victorian writer, translator and explorer, Sir Richard Burton - in the form of a life-sized Arabian tent.
LATEST NEWS, RECOMMENDED ARTICLES & TIPS
When and why to use wood lacquer and varnish on your wood floors
When you have decided on the type of wood floor to install in your home, another consideration is what type of finish to apply. This will depend upon the chosen room, how often the floor is walked upon, and how much time and effort you wish to maintain the floor. The good news is that a low maintenance option includes using floor lacquer or varnish. Below we share when and why to use this type of wood floor finish.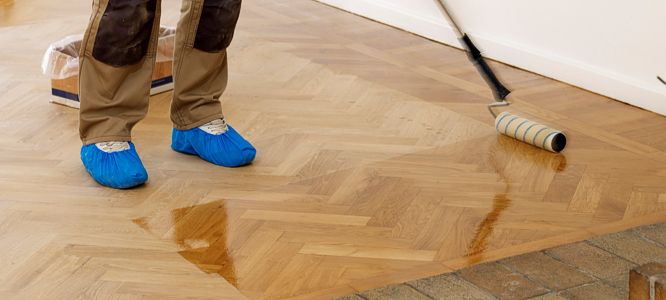 Why use wood lacquer or varnish?

The reason is because both are incredibly hard wearing and long-lasting. Once applied they will last for many years. They also require very little maintenance other than a daily sweep.

When to use wood lacquer and varnish

These two types of floor finishes are usually used on wooden floors with high traffic. However, although they are tough and low maintenance, are they right for you? One thing that you need to consider is that some varnishes can be a little slippery and offer a high gloss look that is not to everyone's taste. If you have very young children, or like to walk around in your socks, then it may not be the best option either. Another consideration is the type and colour of wood it is applied to. Applying to darker woods is usually a good option as it can discolour paler wood. It's also safer not to apply a lacquer or varnish to a landing area or stairs.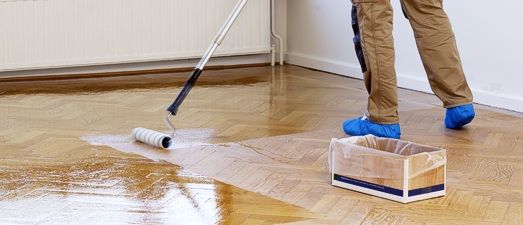 Applying the lacquer or varnish

The wooden floor needs to be properly prepared, so sand it with a dust-free floor sanding machine. Both finishes are incredibly quick to apply and are usually touch dry within as little as three hours. You will usually need to apply several coats but once done no further maintenance is required other than general household cleaning.

If you are in the process of installing wooden floors and have little experience of both sanding a floor and applying a finish, then it is a good idea to use floor sanding specialists. Many offer a combined floor sanding and varnishing service.